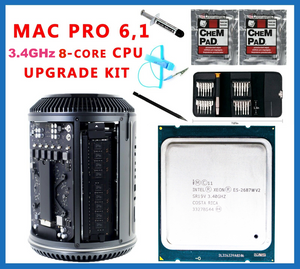 Apple Mac Pro 6.1 Late 2013 3.4GHz E5-2687w v2 8-Core Xeon CPU Upgrade kit
Includes:
3.4GHz

8-core Intel Xeon processor E5-2687w v2
Torx screwdriver set (T5, T8, T10)
ESD anti-static wrist strap 
Opening pry tool
2x ChemPad for cleaning the heat sink
Arctic Silver thermal paste
This is NOT the same speed as Apple's 8-core CPU spec. It's much faster (3.4GHz vs 3.0GHz).
Instruction video:
www.youtube.com/watch?v=wJX5YQY_4LI
THIS IS NOT A MACHINE. THIS IS CPU UPGRADE KIT.