News
Posted by Yunyan Qi on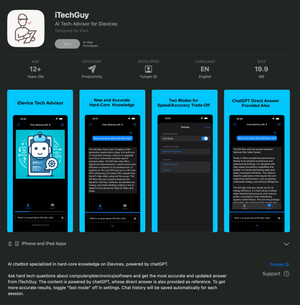 After ChatGPT came out, there are lots of chatbot apps powered by LLM (large language model). However, so far only one chatbot app is specialized on answering tech questions as a personal consultant. It's name is iTechGuy. It can answer many hard-core questions. It also provides answer from ChatGPT as a comparison. I tried asking about some very difficult knowledges about Mac Pro and mostly it has better answers than ChatGPT. It's free of use for a certain number of questions and you can pay once for unlimited usage.  
Posted by Yunyan Qi on
Refer to: https://forums.macrumors.com/threads/mp3-1-5-1-macos-12-3-oc-oclp-problem-with-10g-adapters-aquantia-chipset-solved.2395959/?post=32346028#post-32346028 Basicly you need a specially configured OpenCore. Martin Lo's OpenCore will have it auto supported in next release. With this card, you have 10Gbe ethernet, two NVMe SSD slots and two USB-C ports. Supper cool but a bit pricy.
Posted by Yunyan Qi on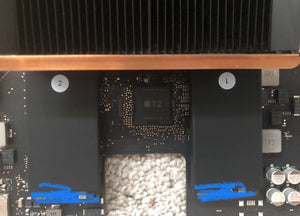 iMac Pro 2017 SSD has a T2 chip controlling two flash modules. Those modules are compatible with the modules used in Mac Pro 2019. So you can buy Mac Pro 2019 SSD kit to be used in your iMac Pro. First you need to use some tool to open the computer case. Note that after you separate the screen panel from the body, behind the display there are still cables connecting to motherboard. So remember not to separate the display panel too far away from the body otherwise you will break those cables. Then you need to disconnect a bunch...
Posted by Yunyan Qi on
Based on hackintosh forum (https://www.tonymacx86.com/threads/success-gigabyte-designare-z390-thunderbolt-3-i7-9700k-amd-rx-580.316533/?fbclid=IwAR2vOn56Vh5qXd2eIS4I0fPXtD6iHKmP6xrEkP2x4Ye0kdizoUO5br9NTIo), the devices below are confirmed to be working. Note that they are tested on hackintosh, not Mac Pro. So they may still not work with Mac Pro. Universal Audio Devices UAD Apollo x8p by @NoiseCoalition Universal Audio Devices UAD Octo Satellite via TB2 to TB3 adapter by @logritm Universal Audio Devices UAD Apollo 16mk2 and UAD Satellite QUAD (in a chain with 2x Apollos and a Satellite QUAD) by @buddhaburger Universal Audio Devices Apollo 8P and UAD Octo Satellite via Apple TB2 to TB3 adapter by @ndrik Universal Audio Devices UAD Apollo Twin MKII by @xanderevo OWC Thunderbay 4 External Storage Array by @DJ4MC G-Technology G-RAID and OWC Thunderbay 4 with a Startech TB3-to-TB2...
Posted by Yunyan Qi on
Mac Pro 6,1 can work with max 128GB DDR3 ECC memories. We sold lots of those memories. We do extensive testing before we ship each set. It's not practical to test every set using a real Mac Pro. Mac Pro is expensive and shouldn't be used as testing device too often. So what shall we do? Actually, instead of testing memories on real Mac Pro, we test it on a PC board. The most compatible motherboard for such memories is Intel x79 boards. We build a PC on such motherboard and run Mac OS on it. Once Mac OS can...
---