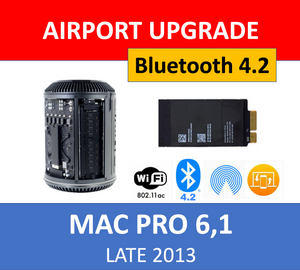 Genuine Apple WiFi Bluetooth 4.2 Upgrade Kit for Mac Pro 6,1 Late 2013
The original wifi/bluetooth card in Mac Pro 6,1 late 2013 has bluetooth version 4.0, which is slower and less compatible comparing to bluetooth version 4.2. For example, Sony WH-1000XM3 head phone requires bluetooth version 4.2. This kit includes a solution for you to upgrade to bluetooth 4.2 for your Mac Pro 6,1.
Included:
Wifi 802.11ac and Bluetooth 4.2 card

USB disk containing software needed for this upgrade

Instruction paper
Note: this is NOT a computer!
Note: this solution requires you to install boot loader on your Mac Pro. With this boot loader, your Mac Pro will appear as "iMac Pro" in about me dialog. but everything will work as before.