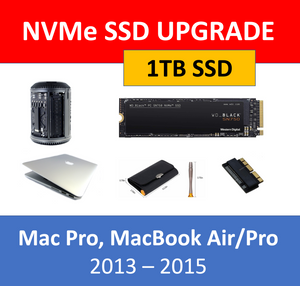 WD Black 1TB NVMe SSD Mac Pro 2013 MacBook Air/Pro 2013 2014 2015 Upgrade Kit
Western Digital Black 1TB NVMe SSD 
for Mac Pro late 2013 6,1 and MacBook Pro 2013-2015 and MacBook Air 2013-2017 and iMac 2013-2017 upgrade.
Much faster than Apple OEM SSD. Western Digital is top tier SSD brand. "Black" is its best series.
This kit includes all you need to upgrade to 1TB SSD, plug 'n play.
Included:
West Digital Black 1TB NVMe SSD

mPCIe adapter

Screw driver set

Mac OS pre-installed (on demand, message us please)
Must upgrade your Mac Pro to Mojave or later OS BEFORE install this SSD.
Upgrade to Mojave

Turn off computer and disconnect battery if any

Unscrew off original SSD

Plug mPCIe adapter

Plug this SSD

Put on screw
SUPPORTED MODELS 
Model year information is located on the back of your machine*
MACBOOK AIR 
11" A1465
Mid 2013, EMC 2631, MacBookAir6,1
Early 2014, EMC 2631, MacBookAir6,1
Early 2015, EMC 2924, MacBookAir7,1
13" A1466
Mid 2013, EMC 2632, MacBookAir6,2
Early 2014, EMC 2632, MacBookAir6,2
Early 2015, EMC 2925, MacBookAir7,2
Mid 2017, EMC 3178, MacBookAir7,2
MACBOOK PRO
13" A1502
Late 2013, EMC 2678, MacBookPro11,1
Mid 2014, EMC 2875, MacBookPro11,1
Early 2015, EMC 2835, MacBookPro12,1
15" A1398
Late 2013, EMC 2674, MacBookPro11,2
Late 2013, EMC 2745, MacBookPro11,3
Mid 2014, EMC 2876, MacBookPro11,2
Mid 2014, EMC 2881, MacBookPro11,3
Mid 2015, EMC 2909, MacBookPro11,4
Mid 2015, EMC 2910, MacBookPro11,5
iMAC
21.5" A1418
Late 2013, EMC 2638, iMac14,1
Mid 2014, EMC 2805, iMac14,4
Late 2015, EMC 2889, iMac16,1
Late 2015, Retina 4k, EMC 2833, iMac16,2
Early 2017, EMC 3089, iMac18,2
27" A1419
Late 2013, EMC 2639, iMac14,2
Late 2014, Retina 5K, EMC 2860, iMac15,1
Mid 2015, Retina 5K, EMC 2860, iMac15,1
Late 2015, Retina 5K, EMC 2834, iMac17,1
Mid 2017, Retina 5K, EMC 3070, iMac18,3
MAC MINI
A1347
Late 2014, EMC 2840, MacMini7,1
MAC PRO
27" A1481
Late 2013, EMC 2630, MacPro6,1